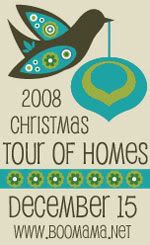 Welcome to our Love Abode and thanks for stopping by! In case anyone happens to find us through BooMama's Tour of Homes, here's a quick recap of who I am:


My name is Abby and I am a newlywed who just got married on July 5th. I work as a college recruiter for a small Christian university and my husband and I are both getting our master's. We have one puppy, Dakota, and have no plans for any other family members right now! If you stop by today, please leave a comment as I always love to find new blog friends! Enough about me, here's our goods!


A holiday staple: the Christmas tree! I only had to buy a few Christmas ornaments, most of the stuff you see is what we used for wedding decorations!
Our tree topper:
A few close ups of ornaments:
I do have to point out the only pink ornament on our tree. Last year when Cody and I were engaged he was going to knit me a scarf for my present. Well, you can see how far he made it, so we've hung it on the tree instead, and I think I'll be waiting the rest of our marriage for the real scarf!
The newlywed staple: Our First Christmas ornament! I searched high and low for one and never found anything that matched us, fun and whimsy, not stuffy. My mom picked this up for us at the Hallmark store. Didn't she do a great job?
These spirals were the only ornaments I had to buy. I will admit, they almost broke the bank. $1 for 4 spirals at Wal-Mart and they had tons of colors! Go check them out!!
Our tree skirt: compliments of the wedding. While the wedding fund bought this, We did get it for about $5!
You can kinda see one bow here. My dad always had the job of making the bows for our presents, and I had him teach me last year, but I'm going to need another lesson!


Aren't these cute? I will admit, I now have a slight obsession with cute holiday decorations. I can blame this on my mom, and I know she can blame it on her mom!! Thankfully Bami got new Christmas decorations this year and passed her old stuff down to me! Aren't I so lucky?! Thanks Bami!!
This pillow and my snowmen figurines make it look like I have a snowman obsession, when actually I just have a generous Mom and Bami who give me things to decorate with! Thanks for the pillow Mom, hope your Bunko friends don't read the blog and find out you gave your prize to me!
The HoHoHo is from Target, only $2.50!


We built Gingerbread House's at youth group last Wednesday, here's the boys: Please notice the 3D aspect of their house!
And here's my Gingerbread House:
Another $2.50 Target find!
And of course all of the ornaments are more wedding decorations!
Want an easy and really cheap way to add some Christmas cheer? Put sprinkles and red hots in your cream and sugar container!
My bag of ribbon waiting to decorate the presents. Just keepin' it real .
I used this set up the other night for a Christmas part we had, so I had the drinks set up and the food next to it on a side table.
Except now the table doesn't have the food on it, but I am displaying the cookies we decorated at our party!
Please note that the bell shaped cookie has some of the icing scraped off from the lid. No one's perfect, right!
I couldn't let this post pass without showing off our Christmas sweaters from our youth Christmas party. We had a Tacky Christmas Sweater contest and Cody and I really got into the theme and decked ourselves out
Merry Christmas! Thanks for stopping by!